Portable's One Million Boys Cult To Be Investigated By IGP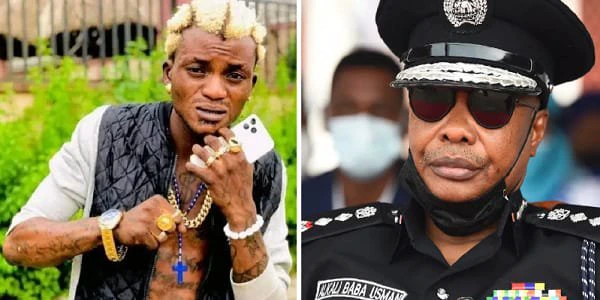 A singer named Portable is the subject of an IGP investigation into the One Million Boys cult gang.
Touchaheart reports that the Lagos State Commissioner of Police (CP), Abiodun Alabi, is to look into claims made by musician Habeeb Okikiola, also known as Portable, claiming he founded the cult group "One Million Boys" in Lagos, the nation's financial center.
This online news source had previously reported that Portable had boasted in a since-deleted Instagram video that in addition to founding the One Million Boys, which terrorized residents of and outside of Lagos, he had also founded cults and a second robbery gang known as the "Ajah Boys."
"Open your ears and hear me, you've heard about Ajah Boys, One Million Boys, I'm their founder," the singer said in Yoruba.
Watch Portable video saying he founded One Million Boys below…
Touchaheart Nigeria reports that the Inspector General of Police (IGP), Usman Baba, ordered the singer to be investigated as a result of a popular video in which Portable made the admission.
CSP Olumuyiwa Adejobi, the Force Public Relations Officer (FPRO), who made the announcement in a statement on Monday, July 18, 2022, stated that if guilt is confirmed, the proper legal action will be taken.
In a statement entitled: "Cultism: Police to Investigate Portable over formation of One Million Boys", the FPRO said: "Sequel to the trending video of one Habeeb Okikiola aka Portable where he claimed to have formed the One-Million Boys cult group terrorising some parts of Lagos State, the IGP has ordered CP Lagos to investigate the indicting statement and take necessary legal action.
"This directive is premised on the continuous effort of the Nigeria Police Force to fish out pillars and sponsors of cult groups in order to decimate their activities and restore sanity to our society."